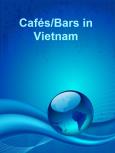 Cafés/Bars in Vietnam
ID: 1923841
October 2014
Region: Vietnam
25 pages
Euromonitor International
In 2013, cafés/bars continued to be one of the most popular destinations for Vietnamese consumers (both young and old) to gather and meet-up thanks to its diversified styles. In the country, all types of cafés/bars are available, from ones targeting young people to ones targeting older people. Consumers can easily find coffee shops selling black coffee for only VND10,000 per glass as well as outlets offering black coffee at VND70,000 per class.

The Cafés/Bars in Vietnam report offers a comprehensive guide to the size and shape of the market at a national level. It provides foodservice sales, the number of outlets and the number of transactions by sector, allowing you to identify the foodservice sectors driving growth. It identifies the leading companies, the leading brands and offers strategic analysis of key factors influencing the market - be they eating habits, lifestyle changes, tourism spending or legislative issues. Forecasts to 2018 illustrate how the market is set to change.

Product coverage: Bars/Pubs, Cafés, Chained Cafés/Bars, Independent Cafés/Bars, Juice/Smoothie Bars, Specialist Coffee Shops.

Data coverage: market sizes (historic and forecasts), company shares, brand shares and distribution data.

Why buy this report?
- Get a detailed picture of the Cafés/Bars market;
- Pinpoint growth sectors and identify factors driving change;
- Understand the competitive environment, the market's major players and leading brands;
- Use five-year forecasts to assess how the market is predicted to develop.
Note: Product cover images may vary from those shown
CAFÉS/BARS IN VIETNAM

October 2014

LIST OF CONTENTS AND TABLES

Headlines
Trends
Competitive Landscape
Prospects
Category Data
Table 1 Cafés/Bars by Category: Units/Outlets 2008-2013
Table 2 Sales in Cafés/Bars by Category: Number of Transactions 2008-2013
Table 3 Sales in Cafés/Bars by Category: Foodservice Value 2008-2013
Table 4 Cafés/Bars by Category: % Units/Outlets Growth 2008-2013
Table 5 Sales in Cafés/Bars by Category: % Transaction Growth 2008-2013
Table 6 Sales in Cafés/Bars by Category: % Foodservice Value Growth 2008-2013
Table 7 GBO Company Shares in Chained Cafés/Bars: % Foodservice Value 2009-2013
Table 8 GBN Brand Shares in Chained Cafés/Bars: % Foodservice Value 2010-2013
Table 9 Forecast Cafés/Bars by Category: Units/Outlets 2013-2018
Table 10 Forecast Sales in Cafés/Bars by Category: Number of Transactions 2013-2018
Table 11 Forecast Sales in Cafés/Bars by Category: Foodservice Value 2013-2018
Table 12 Forecast Cafés/Bars by Category: % Units/Outlets Growth 2013-2018
Table 13 Forecast Sales in Cafés/Bars by Category: % Transaction Growth 2013-2018
Table 14 Forecast Sales in Cafés/Bars by Category: % Foodservice Value Growth 2013-2018
Viet Cafe Trading Co Ltd in Consumer Foodservice (vietnam)
Strategic Direction
Key Facts
Summary 1 Viet Cafe Trading Co Ltd: Key Facts
Company Background
Suppliers
Competitive Positioning
Summary 2 Viet Cafe Trading Co Ltd: Competitive Position 2013
Viet Thai International Jsc in Consumer Foodservice (vietnam)
Strategic Direction
Key Facts
Summary 3 Viet Thai International JSC: Key Facts
Company Background
Suppliers
Competitive Positioning
Summary 4 Viet Thai International JSC: Competitive Position 2013
Executive Summary
Consumer Foodservice Performance Improves in 2013
Vietnamese Fast Food Sees Further Penetration of International Chained Brands
Competition in Vietnamese Foodservice Becomes More Intense
Stand-alone Outlets Continue To Account for Majority of Total Foodservice Value Sales
Consumer Foodservice Projected To Grow Further
Key Trends and Developments
International Chained Fast Food Expands Strongly in 2013
Health and Wellness Trend Affects Consumer Foodservice
Internet Plays A More Important Role in Consumer Foodservice in Vietnam
Value Share of Takeaway and Home Delivery Players Continues To Rise Gradually
Operating Environment
Franchising
Eating Culture
Market Data
Table 15 Units, Transactions and Value Sales in Consumer Foodservice 2008-2013
Table 16 Units, Transactions and Value Sales in Consumer Foodservice: % Growth 2008-2013
Table 17 Consumer Foodservice by Independent vs Chained: Units/Outlets 2013
Table 18 Sales in Consumer Foodservice by Eat-in/Home Delivery/Takeaway/Drive-Through: % Foodservice Value 2013
Table 19 Sales in Consumer Foodservice by Food vs Drinks Split: % Foodservice Value 2013
Table 20 Sales in Consumer Foodservice by Location: % Foodservice Value 2008-2013
Table 21 GBO Company Shares in Chained Consumer Foodservice: % Foodservice Value 2009-2013
Table 22 GBN Brand Shares in Chained Consumer Foodservice: % Foodservice Value 2010-2013
Table 23 GBN Brand Shares in Chained Consumer Foodservice: Units/Outlets 2013
Table 24 Forecast Units, Transactions and Value Sales in Consumer Foodservice 2013-2018
Table 25 Forecast Units, Transactions and Value Sales in Consumer Foodservice: % Growth 2013-2018
Sources
Summary 5 Research Sources
Note: Product cover images may vary from those shown
Note: Product cover images may vary from those shown