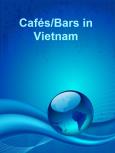 Cafés/Bars in Vietnam
ID: 1923841
November 2015
Region: Vietnam
24 pages
Euromonitor International
1 of 3
In previous years, there have been repeated scandals about fake fresh coffee that was made from corn, soy beans and chemicals offered at street stalls/kiosks and independent specialist coffee shops. In order to regain consumers' trust, independent specialist coffee shops have displayed different types of real coffee beans near checkout counters. Their staff then grind the coffee beans and make coffee drinks in front of consumers.

The Cafés/Bars in Vietnam report offers a comprehensive guide to the size and shape of the market at a national level. It provides foodservice sales, the number of outlets and the number of transactions by sector, allowing you to identify the foodservice sectors driving growth. It identifies the leading companies, the leading brands and offers strategic analysis of key factors influencing the market - be they eating habits, lifestyle changes, tourism spending or legislative issues. Forecasts to 2019 illustrate how the market is set to change.

Product coverage: Bars/Pubs, Cafés, Chained Cafés/Bars, Independent Cafés/Bars, Juice/Smoothie Bars, Specialist Coffee Shops.

Data coverage: market sizes (historic and forecasts), company shares, brand shares and distribution data.

Why buy this report?
- Get a detailed picture of the Cafés/Bars market;
- Pinpoint growth sectors and identify factors driving change;
- Understand the competitive environment, the market's major players and leading brands;
- Use five-year forecasts to assess how the market is predicted to develop.
Note: Product cover images may vary from those shown
2 of 3
CAFÉS/BARS IN VIETNAM

November 2015

LIST OF CONTENTS AND TABLES

Headlines
Trends
Competitive Landscape
Prospects
Category Data
Table 1 Cafés/Bars by Category: Units/Outlets 2009-2014
Table 2 Sales in Cafés/Bars by Category: Number of Transactions 2009-2014
Table 3 Sales in Cafés/Bars by Category: Foodservice Value 2009-2014
Table 4 Cafés/Bars by Category: % Units/Outlets Growth 2009-2014
Table 5 Sales in Cafés/Bars by Category: % Transaction Growth 2009-2014
Table 6 Sales in Cafés/Bars by Category: % Foodservice Value Growth 2009-2014
Table 7 GBO Company Shares in Chained Cafés/Bars: % Foodservice Value 2010-2014
Table 8 GBN Brand Shares in Chained Cafés/Bars: % Foodservice Value 2011-2014
Table 9 Forecast Cafés/Bars by Category: Units/Outlets 2014-2019
Table 10 Forecast Sales in Cafés/Bars by Category: Number of Transactions 2014-2019
Table 11 Forecast Sales in Cafés/Bars by Category: Foodservice Value 2014-2019
Table 12 Forecast Cafés/Bars by Category: % Units/Outlets Growth 2014-2019
Table 13 Forecast Sales in Cafés/Bars by Category: % Transaction Growth 2014-2019
Table 14 Forecast Sales in Cafés/Bars by Category: % Foodservice Value Growth 2014-2019
Viet Cafe Trading Co Ltd in Consumer Foodservice (vietnam)
Strategic Direction
Key Facts
Summary 1 Viet Cafe Trading Co Ltd: Key Facts
Suppliers
Competitive Positioning
Summary 2 Viet Cafe Trading Co Ltd: Competitive Position 2014
Viet Thai International Jsc in Consumer Foodservice (vietnam)
Strategic Direction
Key Facts
Summary 3 Viet Thai International JSC: Key Facts
Suppliers
Competitive Positioning
Summary 4 Viet Thai International JSC: Competitive Position 2014
Executive Summary
Consumer Foodservice Registers Slower Value Growth in 2014
Consumers Become Increasingly Health Conscious
Entry of International Players Intensifies Competition
Retail Locations Witness Strong Growth in 2014
Consumer Foodservice Expected To Produce Good Performance
Key Trends and Developments
International Fast Food Chains Establish Greater Presence in 2014
Consumers Get More Health Conscious
Online Platforms Become Increasingly Important To Foodservice Operators
Consumers Favour Buying Vouchers on Group Buying Websites for Eating Out
Operating Environment
Franchising
Eating Culture
Market Data
Table 15 Units, Transactions and Value Sales in Consumer Foodservice 2009-2014
Table 16 Units, Transactions and Value Sales in Consumer Foodservice: % Growth 2009-2014
Table 17 Consumer Foodservice by Independent vs Chained: Units/Outlets 2014
Table 18 Sales in Consumer Foodservice by Eat-in/Home Delivery/Takeaway/Drive-Through: % Foodservice Value 2014
Table 19 Sales in Consumer Foodservice by Food vs Drinks Split: % Foodservice Value 2014
Table 20 Sales in Consumer Foodservice by Location: % Foodservice Value 2009-2014
Table 21 GBO Company Shares in Chained Consumer Foodservice: % Foodservice Value 2010-2014
Table 22 GBN Brand Shares in Chained Consumer Foodservice: % Foodservice Value 2011-2014
Table 23 GBN Brand Shares in Chained Consumer Foodservice: Units/Outlets 2014
Table 24 Forecast Units, Transactions and Value Sales in Consumer Foodservice 2014-2019
Table 25 Forecast Units, Transactions and Value Sales in Consumer Foodservice: % Growth 2014-2019
Sources
Summary 5 Research Sources
Note: Product cover images may vary from those shown
3 of 3
Note: Product cover images may vary from those shown