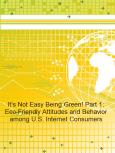 It's Not Easy Being Green! Part 1: Eco-Friendly Attitudes and Behavior among U.S. Internet Consumers
ID: 648766
July 2008
Region: Global, United States
62 Pages
The Diffusion Group
1 of 5
Are American consumers really "going green"? Are the products they buy, the activities in which they engage, and the attitudes they hold consistent with "going green"? Does the "greenness" of a product or service really make any difference when it comes to purchasing, say, a new PC? Are we truly adopting eco-sensitive behaviors?

No doubt due in part to the price of gasoline and oil products, and a growing awareness among consumers about global climate issues, the popular imagination seems squarely focused on what we can do to conserve our resources and preserve our environment. As with previous times in our history, however, what we (as companies and consumers) profess publicly often differs from our private conduct.

Pundits, politicians, and marketers may have been riding the "green" wave steadily for the past 6-12 months, but distinguishing this movement from a fad to a potentially significant shift in social evolution requires further contemplation of consumer behavior. Companies accurately targeting the "green" consumer could provide a compelling edge over competitors that could potentially propel this present trend into a substantial social movement of indubitable worth, thus effectively setting their brand ahead of the industry curve (not to mention the greater benefit to the planet).

The curiosity lies in whether today's "green shift" is genuine, and whether real-world consumer behavior reflects public rhetoric. This report offers new research to help companies evaluate the "green" message as a viable strategy for differentiating one's products and services. Again, the social worth is unquestionable; the persuasive value seems strong; but the green in our wallets may have a stronger pull than the green of our social disposition.

Key Findings From the Report:

- The optimal target for green technologies is not necessarily the most tech-savvy consumer.
- Most consumers participate in simple forms of green behavior such as recycling household debris or replacing incandescent light bulbs. However, more progressive green behavior (such as purchasing a hybrid automobile or switching to a non-fossil fuel-based energy provider) remains limited to less than 5% of adult consumers.
- More than half of adult consumers are to varying degrees concerned with the environmental impact of the CE and technology they buy and use, though only 10% express a critical concern. The fact that 42% of consumers lack any level of concern is alarming, given the public focus on environmental issues. SHOW LESS READ MORE >
Note: Product cover images may vary from those shown
2 of 5
Executive Summary 4

1.0 Opening Comments 14
1.1 Project Rationale 14
1.2 Research Methodology 15

2.0 Concern with Environmental Impact of CE and Technology Purchases and Usage 16
2.1 Generally 16
2.2 Impact of Various Demographic/Psychographic Factors 17

3.0 Consumer Beliefs and Behavior Related to Environmental and Social Issues 23
3.1 Generally 23
3.2 Impact of Key Demographic and Behavioral Attributes 25

4.0 Travel-Related Green Activities 35
4.1 Generally 35
4.2 Impact of Key Demographic and Behavioral Attributes 36

5.0 Home-Related Green Activities 42
5.1 Generally 42
5.2 Impact of Key Demographic and Behavioral Attributes 44

6.0 Consumer Electronic Recycling Habits 52
6.1 Generally 52
6.2 Impact of Key Demographic and Behavioral Attributes 53

7.0 Reflections & Recommendations 60

List of Figures
Figure 1 – Consumer Electronic Recycling Habits 5
Figure 2 – Travel-Related Green Behavior 8
Figure 3 – Residential Green Behavior 11
Figure 4 – Concern with Environmental Impact of CE and Technology Purchases and Usage 16
Figure 5 – Statements Which Best Describe Consumer Beliefs and Activities 23
Figure 6– Travel-Related Green Behavior, Generally 35
Figure 7 – Residential Green Behavior, Generally 42
Figure 8 – Consumer Electronic Recycling Habits 52

List of Tables
Table 1 – Concern about Environmental Impact of CE & Technology Purchases by Gender 17
Table 2 – Concern about Environmental Impact of CE & Technology Purchases by Age 18
Table 3 – Concern about Environmental Impact of CE & Technology Purchases by Ethnicity 19
Table 4 – Concern about Environmental Impact of CE & Technology Purchases by Income 20
Table 5– Concern about Environmental Impact of CE & Technology Purchases by Political Affiliation 21
Table 6 – Concern about Environmental Impact of CE & Technology Purchases by Tech Adopter Status 22
Table 7 – Statements Which Best Describe Consumer Beliefs and Activities by Gender 25
Table 8 – Statements Which Best Describe Consumer Beliefs and Activities by Age 26
Table 9 – Statements Which Best Describe Consumer Beliefs and Activities by Income 28
Table 10 – Statements Which Best Describe Consumer Beliefs and Activities by Tech Adopter Status 30
Table 11 – Statements Which Best Describe Consumer Beliefs and Activities by Political Affiliation 32
Table 12 – Travel-Related Green Behavior by Gender 36
Table 13 – Travel-Related Green Behavior by Age 37
Table 14 – Travel-Related Green Behavior by Income 38
Table 15 – Travel-Related Green Behavior by Tech Adopter Status 39
Table 16 – Travel-Related Green Behavior by Political Affiliation 41
Table 17 – Residential Green Behavior by Gender 44
Table 18 – Residential Green Behavior by Age 45
Table 19 – Residential Green Behavior by Income 47
Table 20 – Residential Green Behavior by Tech Adopter Status 49
Table 21 – Residential Green Behavior by Political Affiliation 50
Table 22 – Consumer Electronic Recycling Habits by Gender 53
Table 23 – Consumer Electronic Recycling Habits by Age 55
Table 24 – Consumer Electronic Recycling Habits by Income 56
Table 25 – Consumer Electronic Recycling Habits by Tech Adopter Status 57
Table 26 – Consumer Electronic Recycling Habits by Political Affiliation 58
Note: Product cover images may vary from those shown
3 of 5
This section highlights key findings from recent primary research on environmental and energy-related activities and dispositions among consumers. It is but a synopsis, with more detailed analysis being found within the larger report.

We begin this summary with a very simple statement and a very simple question. The statement is as follows:

The more politically conservative the consumer, the less likely they are to adopt beliefs or engage in behavior that we may be considered energy or eco-friendly or what today is labeled "green" dispositions. The more politically liberal the consumer, the more likely they are to respond positively to these principles.

To repeat, the simplest means of determining consumer perceptions and behavior regarding environmental preservation and energy conservation, one simply looks at their political persuasion. As the reader will find, this generalization applies to most of the behavior and activities considered in this report.

And now for the question: How concerned are consumers about the environmental impact of their consumer electronic (CE) and technology purchases?

This was among the first questions survey respondents encountered, and what follows is a summary of their responses:

- Nearly 60% of adult consumers are to varying degrees concerned1 with environmental impact of their CE/tech purchases, though only 10% are "extremely concerned." This would qualify as a widely-held belief more moderate in tone – quantitatively, its breadth is wide but qualitatively, the perception is to any "extreme" degree. Subsequently, it is important to ask whether or not these widely-held beliefs manifest themselves in concrete behavior.

- Females are 32% more likely than males to be strongly concerned2 with the environmental impact of their CE and PC purchases. This is early evidence of gender bias among females in favor of eco- and energy-friendly behavior and activities. This positive correlation holds for many of the statements evaluated in this report.

- The greater the annual household income, the less concerned consumers are with the environmental impact of their CE and PC purchases. Ergo, those with modest to moderate household incomes will respond more positively to "green" messaging, even more positively than those with higher incomes.

- Early Adopters of consumer technologies are less likely to be concerned than Early-to-Mid Mainstreamers about the environmental impact of their CE and PC purchases. Approximately two-thirds of Early-to-Mid Mainstreamers are to varying degrees concerned with this issue, compared to half of Early Adopters. As well, Early-to-Mid Mainstreamers express a stronger level of concern when compared to Early Adopters (33% Top 2 versus 30%, respectively). Translation: the optimal target for green technologies is not necessarily the most tech-savvy consumer.
Note: Product cover images may vary from those shown
4 of 5
Interestingly, those with annual incomes at the extremes of the scale (greater than $100,000 and less than $25,000) are more likely to agree with the proposition that excess use of fossil fuels is a legitimate threat to our environment: more than half of these income segments agreed with the statement.

Conversely, those with incomes above $75,000 and below $100,000 are least likely to believe this is true: only 39% agree with the statement. This is a very interesting contrast, one which begs the question as to why these differences are related to income extremes. Not surprisingly, these income extremes are also related to educational extremes: the highest and lowest levels of income correspond to the greatest and least educated consumers. It is the middle income levels (those between $25,000 and $100,000) who do not buy into the truth of the proposition.

The mainstream and liberal press present a picture of fossil fuel usage and global warming as integrally (and causally) related. The conservative and pro-business press, on the other hand, argues that global warming is not related to the increased use of fossil fuels by humans. Why, then, would those with a mainstream income disagree more frequently than others regarding the truth of this assertion?
Note: Product cover images may vary from those shown
5 of 5
Note: Product cover images may vary from those shown